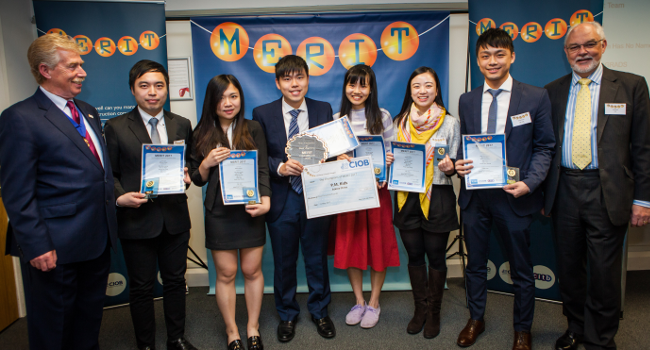 Atkins China's team from Hong Kong, PM Kids, triumphed in the MERIT management game at Loughborough University on Friday and received the coveted trophy from ICE President Tim Broyd, after the most closely fought MERIT final in 27 years.
Numerous leaderboard changes
There were three different leaders over the two-day final at Loughborough University, which comprised 8 rounds of the construction business game. After the online phase to determine the six finalist teams, CEG, a team from Hong Kong Drainage Services Department started the final in first place and held that for two rounds only to be overtaken by OVErachievers, a team from Arup London. OVErachievers had stormed up from fifth position at the start of the final to take first place after only three rounds and looked to have the momentum. They held the lead for three rounds to be overtaken by PM Kids in the third last round and PM Kids held on to win. PM Kids had previously shown their promise in the early rounds where they were leaders for some time before being replaced by CEG but they recovered when it mattered!
Close qualifying rounds
The very competitive final was set up by the six finalists all qualifying over the 12 preceding rounds for the final with only 9% separating the top and bottom teams – exceedingly close in the history of the MERIT game. Given the increased competition where teams are competing directly with each other and also have the ability to invest in each other's companies it promised to be a close run final and so it was.
Tim Broyd, ICE President who attended the final said:
"This was an intense final to what is already a very competitive and challenging tournament; the stress, anxiety, delight, and sheer hard work is there for all to see. These are some special engineers and this business experience will surely help them to develop into senior management roles and lead our business and our sector forward; their creativity and brains are going to be in great demand, to overcome some of the huge challenges we as a society face."

And a quote from the winning team.
"I feel wonderful, it's like a dream. It's very exciting. We didn't expect we would be first, so were quite calm yesterday. Once we knew we might have a chance, then we started to get nervous, and excited." Isabella Chen, PM Kids, Atkins China (Winner)

"We really appreciate that we got the chance to join this game, and everything went well, and we learned a lot from it." Isabella Chen, PM Kids, Atkins China (Winner)

"It was extremely hard and I'm a bit disappointed by the results. Overall it was a really good experience; we got to know each other, we got to work together in a very collaborative way." Oveacheviers (2nd overall)

"MERIT was definitely a very good competition for a civil engineer. We mostly do technical work, at our end, so this is more management. We definitely gained management skills, teamworking, plus time management" Innograds


The winning Team was presented with the ICE engraved Silver Salver and a £5,000 cash prize donated by CIOB. The runners up received a £1,000 cash prize donated by CITB.